Bio Gel Sculpture Treatments
As one of the first salons to bring Bio Sculpture Gel to North Bay 15 yrs ago we have the knowledge and experience you are looking for and are the leaders in Bio Sculpture Gel application!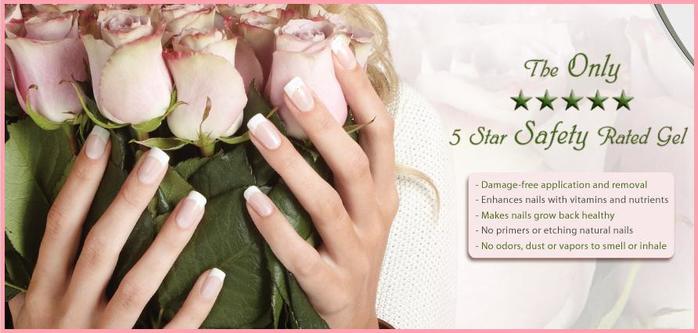 What is Bio Sculpture Gel?

It is a coating that goes on your natural nail to strengthen and provide support for weak and brittle or soft flaking nails. Bio Sculpture Gel can also be applied on tips that are adhered to your natural nail to give you beautiful instant length. In addition to clear and French look, the gel also comes in a wide array of beautiful permanent colours that will never chip or fade like regular polish. Bio gel overlays on toe nails is a great way to have your toes look beautiful all the time and dries instantly! This organic system of nail treatment will allow you to grow naturally beautiful nails like never before!
Because it's The Gel that works!
As the Inventors of: Soak Off Gel, Color Gel, and Gel Nail Sculptures. Bio Sculpture leads the nail industry in all categories: Appearance, Health, Durability, Simplicity and Ease of Application and Removal.
Applied without any primers or bonders, Bio Sculpture natural nail gels will not lift, chip, crack or wear away at the free edge if applied correctly.

The Healthier Alternative
Strengthens, conditions, and promotes the growth of your natural nails while allowing weak, brittle nails to grow. There is no inhaling of dust, vapors, smelly odors and no excessive buffing before, during, or after application. Gel can quickly and safely be removed within ten to fifteen minutes with Bio Sculpture Gel Remover (Soak Off).

No Chip
Manicures Gel is applied thin and natural looking without the use of primers, bonders or sealers. Strong and durable, yet flexible, Bio Sculpture Gel gives the nail the ability to bend without cracking or splintering. It will not lift, chip, smudge, or wear away at the free edge for weeks on end. It dries instantly under a UV-A light, so no more waiting for polish to dry.

Chip Proof Pedicures
No drying time! Put on your shoes and walk right out the door with no smudged toenails. Keep feet immaculately groomed for weeks with no worn or ragged edges. We offer an extensive pedicure line for treating and nourishing feet and toes.

Extensive Color Gel Range
Choose from over 170 different colors, crystal clear, or French. We offer a variety of pinks and whites suitable for every occasion. Change the shade of your favorite color by adding shimmer, glitter or pearl colors for endless possibilities. For a temporary color change: apply any fashion color from our large collection of double density polishes and remove with Bio Sculpture Polish Remover (Cleanser) to return to the original gel color.

Natural Nail Extensions
Flexible gel extensions create strong, thin, natural looking extensions without the use of glue or resin. Extend natural nails that will not split nor crack, giving your nails the chance to grow long and strong. Bio Sculpture Gel can be applied over any other permanent nail enhancements or tips.
---
Tips or Gel Extensions French or color 60min - $75 or 3750 pts
Overlay on natural nail French or color 45min - $65 or 3250 pts
Removal and reapply 75min - $55 or 2750 pts
Overlay on Toes 45min - $49 or 2450 pts
Removal and re-apply on toes75min - $45 or 2250 pts

Call us for further details and information on this wonderful product.

(705) 475-0660